Partnerships
Humans and robots: making work with robotics meaningful
The Robotics by Design Lab - AI, Robots & Humans? Ecologies for Living Together (RbD Lab) was launched on 9 December 2019. Supported by large groups such as SNCF, start-ups, leading academic institutions and research centres, its aim is to put people at the heart of robotics and artificial intelligence development.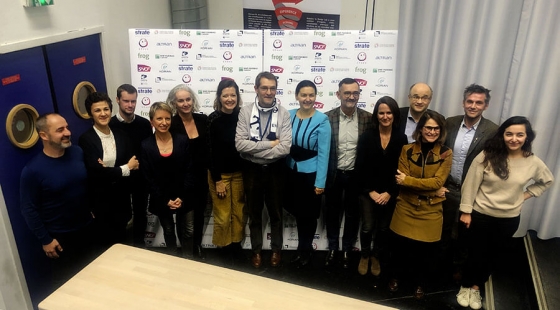 This four-year joint laboratory will include four CIFRE doctoral thesis projects being carried out at partner companies. Mégane Sartore, a doctoral student in Engineering Sciences, will join the Mechanics and Interactions team at SNCF Innovation & Research. She will be doing a thesis on psychology and design with the Laboratory of Digital Innovation for Businesses, Learning and Competitiveness in the Regions (LINEACT), a unit of the CESI School of Engineering, and in collaboration with Strate Research, the research and innovation department of Strate School of Design. The Robotics by Design Lab (RbD Lab) will draw on multiple disciplines, and in particular design, to propel research in robotics and AI, with the doctoral students bringing a broad range of special skills and knowledge to the project, including robotics, computer science, and cognitive psychology as well as the human sciences, ethics, and ecology.
Through its ability to construct imaginary worlds and create new narratives, the RbD Lab will imagine, create, test, and generate real-life situations with these artefacts, which will in turn have the capacity to exist autonomously for short-, medium- or longer-term periods in the context of the everyday reality at the partners. This will bring about a fundamental shift in our relationship with the world. By placing these commonly shared relationships and life experiences portrayed by different actors in diverse contexts, we will be able to develop new ecologies for living together.
The thesis project at SNCF will investigate the place of social robotics and artificial intelligence in real-life, everyday situations. For example, how can performing inspections under trains with a robot increase efficiency and make the work more meaningful to the people doing it? What would the role of these maintenance workers then be? How can they be persuaded not just to accept, but to readily adopt new robotic tools? The research thus focuses mainly on the activities of robot users as well as others either directly or indirectly involved such as facility managers and engineers, with the aim being to create new practices, new uses, and efficient objects. Human factors will be central to the design process. In this regard, researchers speak of the ikigaï of robotics, a Japanese word meaning "what makes life worth living". In other words, what motivates us to get up each morning.
Did you know? 
The participants in the Robotics by Design Lab come from diverse sectors. They include Spoon (a start-up specializing in robotics), Korian (European leader in retirement homes), BNP Paribas Cardif (global leader in borrower insurance), frog-Altran (an engineering, innovation, and design consultancy), and, of course, SNCF.
Four major schools and universities are also taking part: ENSTA Paris (Institut Polytechnique), the engineering school CESI with its laboratory LINEACT, Université Paris-Est Créteil with its laboratory LISSI (Laboratoire Images, Signaux et Systèmes Intelligents), and Strate School of Design, which is leading this project.
This project will investigate the broader issues of expertise and the worker's role in relation to robotics. It will thus look at the motivational, emotional and affective dimensions and in particular the question of the adoption of robots, all of which need to be taken into account from the start of the design process. Using a robot must make sense to the worker, who will want to control its use. This is the only way the incredible potential of robotics can be fully exploited. Conversely, if users' acceptance and adoption of robotic systems are not taken into account, it can have dire consequences, as the crashes of the Boeing 737 MAX have shown: a new stall-prevention device was introduced on these airliners, but the pilots were only informed of it in a memo and thus were not prepared to respond properly when it was activated. This clearly demonstrates the importance of thinking about human-robot interactions and thus about design, since design is a discipline focused on people's real-life experience that acts as a mediator between emerging technologies and the search for meaning pursued by the human sciences.